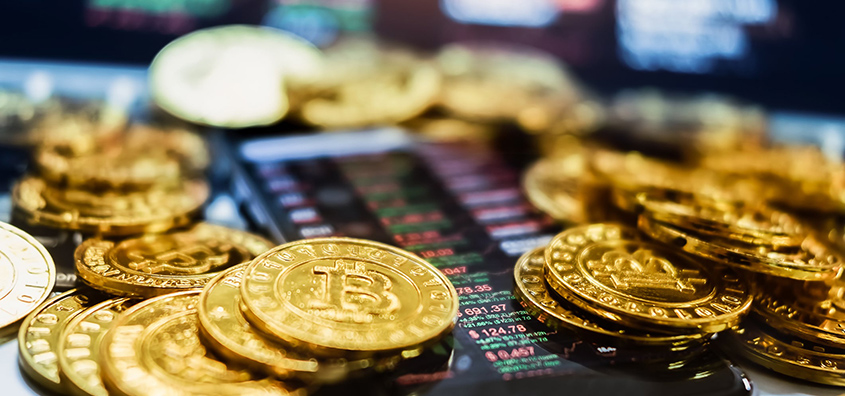 Cryptocurrencies and crypto-related companies, such as Voyager Digital Ltd. (CSE:VYGR)(OTC:VYGVF), Mogo Inc. (TSX:MOGO)(NASDAQ:MOGO), Riot Blockchain (NASDAQ:RIOT), and Marathon Digital Holdings Inc. (NASDAQ:MARA) have become some of the hottest investment opportunities of the year. However, soon investors may even be able to invest in companies that allow you to buy Bitcoin, like Coinbase. Another up and coming company that could be similar to Coinbase is TechX Technologies Inc.'s (CSE:TECX)(OTC:LLNKF)(FRA:C0B:FF) Catalx.io.
Coinbase just announced plans to go public through a direct listing, which allows companies to "skip the expensive investment bankers and their fees and simply list the stock on an exchange. The current owners of the company convert their shares to stock, and then investors can buy shares on the exchange." The company, valued at about $100 billion in private secondary trading, operates as an online exchange, allowing retail investors to buy and sell cryptocurrencies. It also offers a trading platform, Coinbase Pro that allow you to view digital currencies technically, as well as a wallet service and a Coinbase debit card.
In addition, according to The Hustle, some of Coinbase's key strengths include:
– "Huge industry growth: The market cap of crypto assets went from $500m in 2012 to $782B by 2020 — 150% growth per year.
– Rapid revenue increase: Coinbase more than doubled its revenue in 2020 to ~$1.3B. There are 43m retail users, mostly from word-of-mouth marketing.
– Steady profitability: Unlike many high growth tech companies, Coinbase has been largely profitable in recent years — ending 2020 with $322m in net income."
Again, another up and coming company that could be similar to Coinbase is TechX Technologies Inc.'s (CSE:TECX)(OTC:LLNKF)(FRA:C0B:FF) Catalx.io.
CatalX Has Already Achieved Significant Growth
TechX Technologies Inc. just announced that its initial investment in CatalX CTS Ltd. has proven to be an early success. CatalX achieved significant growth in trading volume, daily users, deposits and revenue in February 2021.
CatalX, which is Canada's premier cryptocurrency exchange, is a Canadian-based FINTRAC registered and compliant digital asset exchange platform that specializes in cryptocurrency trading, blockchain and cybersecurity technology.
CatalX announced the following key metrics from February 2021:
– Trading volume increased 271% MoM from $4,014,760 in January 2021 to $14,886,305 in February 2021
– Monthly transactions increased by 2,281% from 1,012 to 24,091
– Daily average users increased 75% MoM from 16.41 to 28.64
– Deposits increased by 182% MoM from 1,229,974 to 3,465,636
– Revenue increased by 61% MoM from $97,430 to $156,754
"We are ecstatic about our February growth, which have not only met but exceeded our initial expectations," said CatalX CEO Jae Park. "CatalX has been primarily focused on working towards becoming the first regulated exchange in Canada, and now we've had the opportunity to shift our focus toward user acquisition and revenue growth with the investment from TechX has already proven to be a huge success. We look forward to sharing our numbers in the coming months."
"We are very pleased to share the CatalX Exchange's exciting growth numbers for last month, which came at no surprise considering the ever-growing excitement surrounding crypto, along with the exchange's superior features such as having the tightest spreads, fully featured order book and the lowest price for bitcoin in Canada," said TechX CEO Peter Green. "The first seven days of March have been extremely encouraging, so we look forward to seeing an even bigger increase across the board when those results come in at the end of the month. It's clear that CatalX is the top crypto exchange in Canada and we are very happy to be partnered with them."
TechX signed a definitive agreement (press release from February 16, 2021) to make an equity investment of C$2,000,000 into CatalX.
Other related developments from around the markets include:
Voyager Digital Ltd. (CSE:VYGR)(OTC:VYGVF) announced financial results for its fiscal 2021 second quarter ended December 31, 2020 and is pleased to provide shareholders with a business and operational update. "Our December quarter results reflect the continued mainstream acceptance of digital assets and crypto-currencies as more conventional investors embraced Bitcoin and major companies stated their intentions to convert substantial parts of their Treasury into Bitcoin," said Stephen Ehrlich, Co-founder and CEO of Voyager. "Voyager started to capture significant market share with our customer friendly, easy to use, zero commission agency broker platform for trading and investing in crypto-currencies. Now, we are better positioned than ever to grow our business and reach a broader audience of mainstream investors by educating them about investment opportunities with digital assets and their increasing global acceptance.  Voyager is becoming the platform of choice for retail investors, as evidenced by our unprecedented growth in 2021 to date."
Mogo Inc. (TSX:MOGO)(NASDAQ:MOGO), a digital payments and financial technology company, announced it will hold a conference call and webcast to discuss its Q4 2020 financial results on Tuesday, March 23, 2021 at 5:00 p.m. (EDT). The call will be hosted by David Feller, Mogo's Founder & CEO, and Greg Feller, President & CFO. The live webcast will include a slide presentation. The Company will issue its financial results after market on March 23.
Riot Blockchain (NASDAQ:RIOT), one of the few NASDAQ-listed bitcoin mining companies in the United States, announced that it will achieve an estimated hash rate capacity of 1.06 Exahash per second with the deployment of the newly received 2,002 S19 Pro Antminers. "Exceeding 1 EH/s in hash rate capacity marks a major milestone for the Company," said Jason Les, CEO of Riot.  "While we are proud of this accomplishment, we view it as the successful completion of just one of many steps of our ongoing growth plan.  Riot continues to receive and deploy next-generation miners from Bitmain and remains on schedule to more than triple our currently deployed capacity by the fourth quarter of 2021."
Marathon Digital Holdings Inc. (NASDAQ:MARA), one of the largest enterprise Bitcoin self-mining companies in North America, announced that the Company's mining fleet will produce approximately 1.4 EH/s (exahash per second) by the end of March. On February 1, 2021, Marathon announced that Bitmain had shipped approximately 4,000 S-19 Pro ASIC miners to the Company's mining facility in Hardin, MT, all of which were delivered as scheduled. In addition to the initial 4,000 miners delivered to the Hardin facility in February, Bitmain recently shipped another 6,300 miners to Hardin. A portion of this new shipment has already been received and installations are progressing. Marathon expects all 10,300 miners to be installed by the end of March, at which point the Company's mining fleet will consist of 12,920 miners generating approximately 1.4 EH/s.
Legal Disclaimer / Except for the historical information presented herein, matters discussed in this article contains forward-looking statements that are subject to certain risks and uncertainties that could cause actual results to differ materially from any future results, performance or achievements expressed or implied by such statements. Winning Media is not registered with any financial or securities regulatory authority and does not provide nor claims to provide investment advice or recommendations to readers of this release. For making specific investment decisions, readers should seek their own advice. TechX Technologies Inc.
has paid three thousand five hundred dollars for advertising and marketing services to be distributed by Winning Media. Winning Media is only compensated for its services in the form of cash-based compensation. Winning Media owns ZERO shares of TechX Technologies Inc. Please click here for full disclaimer.
Contact Information:

2818047972
[email protected]